HIYA!

It was a dark and stormy night and someone or SOMETHING was ringing the bell in the school clock tower!

It got worse when we saw a horrible face glowing in the window EEEKY FREAK! But there's no such thing as ghosts... or is there?

There was only one way to find out. We all spent a night in the school hall keeping watch, and that's when things got even stranger...

WOOOO!

Here are some of Mr Tazzyman's BRILLIANT pictures!

Mrs Twelvetrees leading us on a night-time ghost hunt...
...and Miss Barking sitting on a drawing pin!

Two embarrassing Dads wearing slipper boots... and the haunted photocopier!

This is the real ODD STREET at night time!
This is my sixth book.
If you've read it, you can have a go at my
BOOK QUIZ!
You can get the NORMAL book with words and funny pictures by Mr Tazzyman.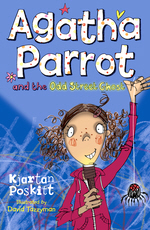 OR...you can even get my books to read on a KINDLE machine!

How cool is that?
If you want one, just ask an old person to click on one of these pictures and they can order it from Amazon. (Don't forget to ask nicely and say PLEASE!)