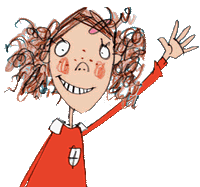 The NAME MAZE!
Can you find all our names in the maze? My name is easy, but Bianca's is really hard!

The NAME GAME!
Can you work out Miss Wizzit's first name?
(But if you do, don't you DARE call her it!)
FUN TIME!
Every book has a quiz sheet you can print out.
Click on these book covers to get the sheet you want!
Amazing - awesome - incredible!
Look at my
TRUE FACTS

There's a different fact every time...
...and that's true.