HIYA!

One night me and my friends had to look after some baby chickens but one of them disappeared.

EEEEK panic panic - where could he be?

That's when Bianca found something blocking up her trombone, then Dad found a lump under his new wallpaper, and then we saw mad Ivy burying something in a plant pot!

(Don't worry, there IS a happy ending. Promise promise.)

Here are some of Mr Tazzyman's BRILLIANT pictures!

Martha should have put the toilet seat down before she tried to stand on the bath ha ha!
Miss Barking with a net, gloves and mask all ready to protect Mrs Twelvetrees if one of the chickens decided to attack her.
Here's one of the tiddlies dressed as a chicken-headed pumpkin.
Eeeeky freak!

Don't be scared!

This is only Ivy's window box with all the bits she's pulled off her Barbies.
This is my fifth book.
When it comes out you can have a go at my
BOOK QUIZ!
You can get the NORMAL book with words and funny pictures by Mr Tazzyman.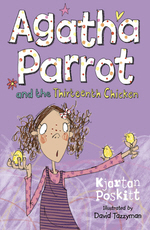 OR...you can even get my books to read on a KINDLE machine!

How cool is that?
If you want one, just ask an old person to click on one of these pictures and they can order it from Amazon. (Don't forget to ask nicely and say PLEASE!)