What is your record number of holes you have ever had in your tights?!
Like from Asha (6)
My record number of holes in my tights is 17, but Ivy is even better. Her record number is 31 after she fell off a fence into a bramble bush ha ha!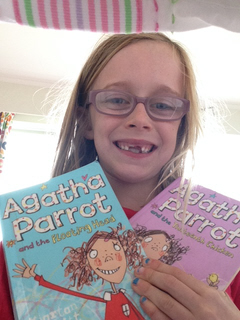 What is the answer to Random's Egg puzzle in the back of the Thirteenth Chicken book?

My mum thinks she knows the answer but I want to make sure!

From Bella in New Zealand
Wow! I didn't know that Random had managed to get round to the other side of the world. That's SOOOOO cool! I'll tell the old man who types my books out to send you the answer.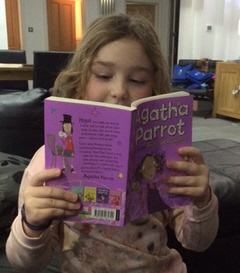 I love your books they're so funny they're great!

Your brother James is as smelly as a sock, well my two brothers Luca and Louis are as smelly as horse poo.

Love Ella xxx
Gosh - if they really smell as bad as that then James will be SO jealous ha ha!
Do you like dolls? I do.

From Rosie
Shhh! This is secret but actually I do have one doll called Gracie. She sleeps in a little hiding place in the corner of a drawer under some vests!

Wow! I got this message in Chinese from Hagen, and he is asking me if I have a boyfriend! No I do NOT, but I do have some good friends who are boys. Even my brother James is quite nice sometimes.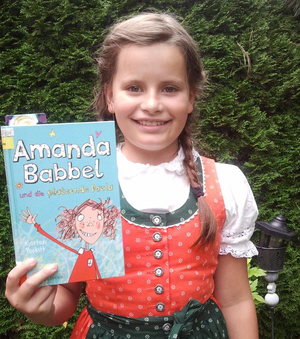 Greetings from Bavaria!

At school we have to introduce our favourite book. For me it is "Amanda Babbel" because it is really great and funny!

Yours Marlena age 9
What a great message Marlena, and thanks for letting me see my "Floating Head" book in German! I love how people in Germany call me Amanda Babbel - that is just SO cool.
(By the way, all my friends wish they had a dress like yours!)
In the Thirteenth Chicken book, you say you like the start of school term, but do you like the rest of it?
From Lucy
School's pretty good most of the time - except when we have to have singing practise for concerts because Gwendoline Tutt always gets to do a solo and she sounds like a cat at the dentists ... ha ha!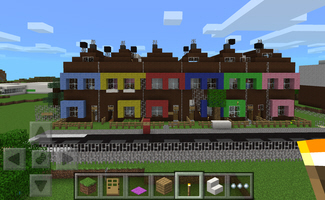 Look what I did! I made Odd Street on Mine Craft. I even put Agatha's and Tilly's bedroom in.

I hope you like it!

Love from Ali age 9
That is awesome! I love the letter box. I just hope you didn't make brother James's bedroom because it's really smelly ha ha!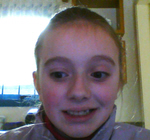 This is VITORIA from BRAZIL!
She asked me a really cheeky question like this:
Ela jŠ teve uma paixonite pelo garoto mais lindo da sala de aula?
It means "Do I have a crush on the cutest boy in our class?"
HA HA! A cute boy in our class? Are you kidding? YUK! But maybe boys are nicer in Brazil.
I've got a big brother, but what I really want is a little sister to boss around! LOL!
From Lucy xxx
I warn you, it's not very easy bossing little sisters around!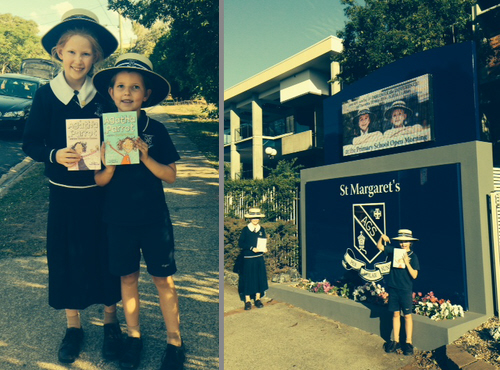 To Agatha, I am Eloise and my nickname is ELLIE and I have two little sisters, one called AGATHA and one called Verity.
From Ellie in Queensland, Australia.

Oh wow! And that's a picture of Ellie and Agatha outside their school in Australia! I just LOVE those hats ... want want want!
Please can I have some more Agatha Parrot books? I have read all six and I can't wait for the next one. My name is Ellie. I am nearly seven and my favourite story is The Odd Street Ghost. Please don't just write one more. KEEP GOING. Tell that old man to work harder.
Love from Ellie Mead. (Not the Ellie in the book.)
I'm really impressed you read ALL SIX of my books and you're not even seven yet! That's awesome.
The old man has done some new books about a savage called Borgon the Axeboy AND he has to do some more of his maths books too, but hopefully we'll do some more of my books before too long.
Byeeeeeeeeeeeee...
Agatha (and the ghost WOOOO!)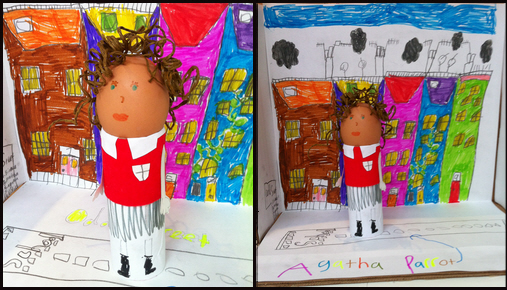 I made an Agatha Parrot out of an egg and took it to school. Her hair is made out of curly string. When I took it home from school I found that it was a tiny bit cracked, but it still looked good.
Love from Frea xxx
That is awesome - it's EGGATHA PARROT ha ha wicked! And I love all the Odd Street houses in the background!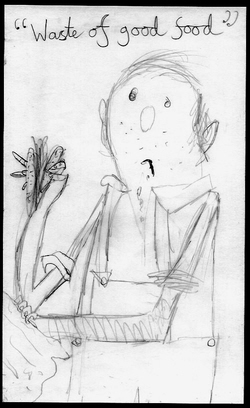 I love Agatha Parrot and the Odd Street Ghost! I'm reading it for the third time already.
And I loved dressing up as Motley the caretaker!
Good byeeeeeeeeee From Joshua (:-9)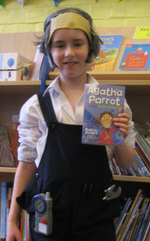 What a brilliant outfit - especially the groovy bald head ha ha! And your picture of Motley eating the disgusting Fishpopz in Odd Street Ghost is totally BRILL!