HIYA!

What would YOU do if your brother started getting emails from a mystery girl?

HA HA!

Ok I admit it was my fault. My friend Martha had got into trouble with her mum and I was helping out, but things went a bit wrong, especially when the mystery girl started sending James loads of LOVE and KISSES like this XXXXX.


WOO-HOO!

Here are some of Mr Tazzyman's BRILLIANT pictures!

James gets his email from a MYSTERY GIRL. What a pity he couldn't keep it secret!
Oh dear - Miss Barking was trying to tell Miss Wizzit that she's not allowed to use her stapler. Nasty!
And here's my lovely little sister Tilly in her wellies looking for some worms to stomp on.
This is my fourth book.
If you've read it, you can have a go at my
BOOK QUIZ!
You can get the NORMAL book with words and funny pictures by Mr Tazzyman.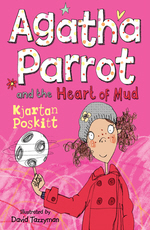 OR...you can even get my books to read on a KINDLE machine!

How cool is that?
If you want one, just ask an old person to click on one of these pictures and they can order it from Amazon. (Don't forget to ask nicely and say PLEASE!)