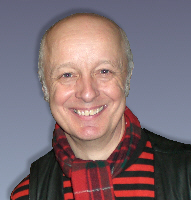 Kjartan Poskitt's C.V.
This page is supplied for people who wish to include a few details about me in programmes or publicity for shows or events. You may use as much or as little of the information as you want.
Since Kjartan got his engineering degree he has worked on children's tv (dating back to BBC's Swap Shop!), presented science and maths programmes, warmed up thousands of studio audiences, toured his one man show, played a lot of pub pianos very loudly and has been Widow Twankey. In the last 20 years he has appeared all over the country as well as on tv and radio demonstrating mathematical tricks and oddities from his books. He has written many shows and pantomimes, twice winning the London Fringe Award for Best Production. He has five shows published including his world-wide musical success HENRY THE TUDOR DUDE (produced over 200 times).
Kjartan's books have been translated into over 30 languages and include the award-winning "Murderous Maths" series, a GCSE maths guide and "Everyday Maths For Grown Ups". His other non-fiction titles feature books on space, Isaac Newton, Houdini, mazes, codes, magic, pants, his "Killer Puzzle" series, and four "Rosie and Jim" annuals.
His fiction titles include the "Urgum The Axeman" novels, six "Agatha Parrot" books, the "Borgon the Axeboy" series and picture books including "The Runaway Pea".
Kjartan has also written songs and scripts and worked as a games consultant for a wide range of children's t.v. shows. His music for t.v. includes the original themes for the BBC's "BRUM" and the long running "SMART" series.
He has written for "Rosie and Jim" comic, "The Beano" and the "The Oldie" and "Mad Maths" magazine.
Kjartan is currently developing new maths ideas and writing more children's novels, as well as continuing to tour with his maths and comedy shows ...
...and frankly this petty list of his dismal achievements goes on forever so that'll have to do. He's married to Bridget, they have four girls and his mentionable hobbies include running his websites, astronomy, magic tricks, making strange noises on his moog sythesisers, mending his old pinball tables and running his local pub quiz.