Details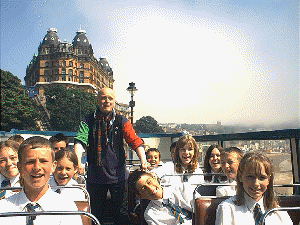 &nbsp &nbsp Filming for BBC Schools TV on a bus in Scarborough
&nbsp &nbsp First shown on BBC2 March 2002
&nbsp &nbsp "The Maths Channel" .... winner of the 2002 R.T.S. Award
&nbsp &nbsp for best science/maths/ICT programme.

SUITABLE VENUES:
THEATRES: are best! It means that I can entertain more people more effectively, plus it's easy to see what I'm doing and the acoustics are better. The event also makes a much bigger impression on the audience.
SCHOOL VENUES: Any assembly hall, a/v room, drama studio etc. is suitable providing the kids can sit comfortably for the duration of the sessions. No limit to audience size providing they can all see me working on a flip chart and hear what I'm saying (see REQUIREMENTS below). Generally sports halls are unsuitable because of the acoustics.
PUBLIC VENUES: Ideally a theatre setting or appropriate room with seating (or carpeted floor) for audience. Usually organisers arrange admission on a ticket basis, but that's up to you. I can work out of doors if there is a reasonable p.a. system and if the audience is contained - what I do NOT do is any sort of busker or street theatre set up where I have to keep calling people over to see me. No limit to audience size providing they can all see me working on a flip chart.
WHERE ARE YOU?
I avoid overnight stays for single days, so engagements must be within reasonable travelling time, preferably by rail, from YORK. These would include Edinburgh, central London, Manchester, Birmingham and most of the NE. (Please be realistic and allow for delayed trains!)

If travelling is to take much more than 2 hours each way, then either you could organise one big early afternoon show with a massive audience or it may be possible to co-ordinate with other people in your area to make a 2-3 day visit worthwhile. Such trips need to be booked well in advance, and I always look on them more favourably if you can find me an interesting place to stay!
The yellow building is the
Pier House Hotel,
Charlestown, St Austell
where Liz Hurley, (a very enterprising librarian in Newquay) put me up.

Highly recommended - and not far from the Eden Project!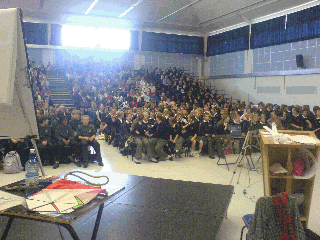 This is what 500 kids looked like at Exmouth
REQUIREMENTS: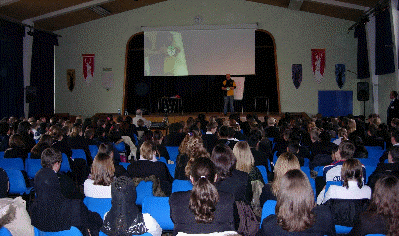 Flexagons on the big screen at Reading
Absolutely VITAL: I need something to write on! The best thing is a FLIP CHART with plenty of paper , which will usually be adequate for audiences up to 300 providing you have a well-lit stage area. (A flip chart is usually fine for any size of theatre with tiered seating.) Otherwise for larger venues, you can point a camera at the flip chart and project onto a big screen or monitors. If a flip chart is not practical, a large white board (not electronic) or a wall covered in paper is ok. Otherwise for large venues I can work with a visualiser coupled to a projection system (i.e. I write on a desk unit that has an overhead camera). I will need to be advised in advance what you are supplying for me to work on.
For most of my sessions I also need to use POWERPOINT, so please supply a projector and screen to plug my laptop into. I do NOT use electronic white boards.
P.A. System: Unless your venue is quiet, small and contained, then I need some sort of amplifier set up. (In recent years I've had to take medical advice on my voice.) In certain circumstances I can provide my own p.a., otherwise I can bring my own radio mic if you can supply some sort of amplifier (a small guitar amplifier is usually quite adequate, and most school music departments have something suitable to borrow). If using a portable amplifier system please ensure that there's somewhere to plug it in that works! If your venue is especially noisy or echoey- (e.g. sports hall) please ensure your system is adequate.
Lighting: As well as working on a flip chart, I use a number of props. Therefore the stage or performance area should be adequately lit, and I should also be able to see the audience. This is very rarely a problem, but it should be considered if I'm working with any form of big screen projection.
Staff: an adequate number of responsible staff MUST be present at all times. This especially applies to schools for insurance purposes and in the very unlikely event of needing to deal with any excessive disruption.
Water - a bottle of still mineral water is extremely welcome especially for longer sessions.

To ensure you get what you want from author talks, kids should have questions prepared beforehand.
It is usually helpful if I can be introduced to the audience by a member of staff or a chairperson.
Lunch - a quick sandwich is all I need. However if I'm not required to sign books or talk over lunchtime and there's a suitable pub nearby, then that's always very welcome!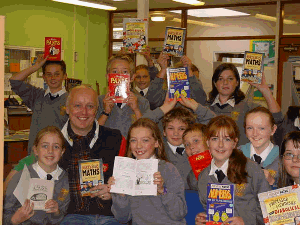 It took me 10 hours to get to
Tretherras School, Newquay, Cornwall

BOOK SALES: if you've organised copies of my books to be on sale, of course I'm delighted to do signings. (I do not bring my own books for sale but if you want to organise this yourself, a local bookshop will probably be happy to arrange you some copies on a sale or return basis, and they can usually offer some sort of commission. Otherwise discounted books are available on a sale or return basis by contacting the publicity dept. at Scholastic on 020 7756 7756.)

PUBLICITY/POSTERS: There are various images which you're welcome to use with your own literature here: Publicity and Poster Photos, otherwise we can supply .pdf files of Murderous Maths posters. You can also use any details you like from my C.V..

FEES... will depend on where you are and what you want. In addition, rail fares can vary enormously depending on what time of day you need me! Please click BOOKING ENQUIRIES.

AVAILABLILITY The list of dates below gives some indication of when I'm already booked, although I have numerous other commitments not listed. I try to limit appearances to around 8 days per month otherwise I'd never get anything else done!

Advance Notice! Please arrange any bookings as soon as possible as I already have dates reserved up to a year in advance.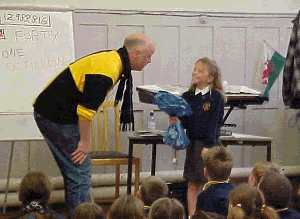 Utterly failing to impress anyone with my fluent Welsh
Maesteg, Wales

CONFIRMATION OF BOOKING Once we've agreed plans for an event, we'll send you details of what we need from you in terms of written confirmation. It's usually just a letter on headed paper plus any forms you might need us to fill in.

AUDIO / VISUAL RECORDINGS If you want anybody to film or otherwise record what I do, please check with me beforehand. Usually it's no problem, but sometimes camera crews can be extremely thoughtless about just wandering about in front of the audience and obstructing their view. I also have to be wary of having my material casually chucked onto the telly, internet or DVDs without any proper credit or recompense!

PRESS PHOTOGRAPHERS Some press photographers simply take pictures from the back while I'm performing which is fine. However most of them like to pose their own shots, and if this is allowed to happen during a session it can be both time-consuming and disruptive. It's best if posed shots can be taken at the end of a session.

&nbsp