Thank you for finding this page!

FROM SEPTEMBER 2020 ... after 2,500 events over 20 years I'm now cutting back on most live events. However if you have an interesting festival, prize giving or fun maths day, please get in touch.

<!date table>

<!end date table>

Contact:
---
Festivals
I show tricks and strange stuff from my Murderous Maths series, suitable for all ages.
I can talk about any of my other books, in particular The Runaway Pea series (for ages 3-6) or Harry Houdini.
I do a combined session with some maths fun and a bit of the others!
Streaming: events are often streamed live, and if time allows I can answer questions online as well as from the audience.
Primary Schools
I do an afternoon Murderous Maths show (up to 75 mins) suitable for yrs 3-6.
I can talk more generally about my books including The Runaway Pea series (for infants)
If you want me in school for a longer day, please enquire.
You'll find more details here: Primary School Visits
Secondary Schools
If you're having a maths day for your local primary schools or families, I can do a suitable show (up to 75 mins).
Video Events
If a school visit isn't practical, you might like a video event.
---
Full Event Details This is a very long page outlining everything I can talk about!

Contact:
---
"A stand-up maths routine has children and teachers in fits of laughter... maths has never been so much fun."
See the write up from The TIMES EDUCATIONAL SUPPLEMENT "Wellfield have never laughed and learnt so much at the same time ... a fantastic afternoon had by all!"
Hayley McElderry, Wellfield Middle School, Whitley Bay. "I couldn't stop laughing. I must have told my mum about 70 times. She told me to shut up after 60."
Gabrielle, yr 7, St Hilda's CE High School, Liverpool.

"Today's talk ranks as the most entertaining event we have ever had!"
Victoria Nemeth, maths leader, Highgate Junior School
<!top page spilt!>


AUTHORS LIVE: clips from a Murderous Maths event filmed at BBC Scotland and streamed to schools across the UK.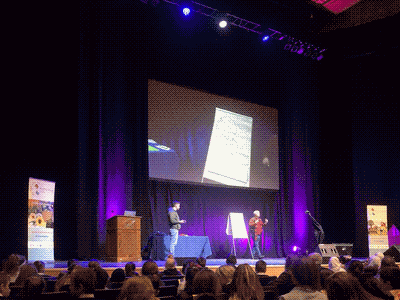 Two Murderous Maths shows each to 1,000 kids and teachers
in the Helix, Dublin Oct 2018.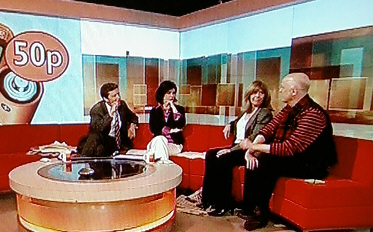 Providing puzzles for an adult numeracy discussion
on BBC Breakfast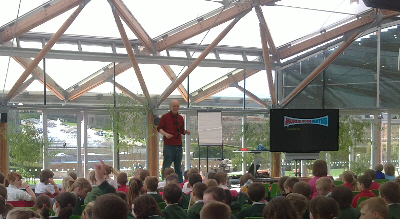 Being upstaged by the fabulous water falls
at Alnwick Castle, April 2011