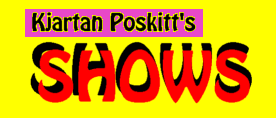 Music Demos
PLEASE NOTE: your computer needs to have "REAL PLAYER" installed to hear the songs on this page. If you are in any doubt, then please check through the guidelines below.
These songs are also available to play on WINDOWS MEDIA PLAYER
About the music demos:
These are only short sections of songs and music from my shows made by myself and a couple of friends - hopefully you'll see the music's potential and will be inspired to do better! Occasionally new sections are added to this site.
To play a demo, click on the link. Your "Real Player" screen should open immediately and after 10-20 seconds you should hear something (providing your sound card is working). If you get a message saying something like "buffer congested" then it takes a bit longer.
For advice on perfoming with a live band or backing tracks see: Backing Tracks Guide
Music Demos: "The Body Rock Encore" - "Blue!" - "Do Your Worst" -
Music Demos: "The Seaside Special (Naked on the Beach)" - "Charlie Boy" - "Gimme The Nurse" - "All Shut Out"-
Music Demos: "Catesby's Cabaret Time" - "The Girl That Never Was" -
"Smile As You Go" - "He's a Man!" (a tribute to Sir Walter Raleigh) -
Music demos: "Wake Up" - "Dance of Life" (encore recorded live) -
"Sad sad story " - "The Closest Friend" -
Music Demos: "Don't You Know....?" - "Finale" (a medley of reprises) -
"The Weirdest Thing I've Ever Seen"
GUIDELINES:
To hear the music on this site your computer needs RealPlayer. Almost any new PC will have it already installed. If you don't have it, there are fancy versions you need to pay for, but there's also "Real Player Basic" which does the job nicely and you can download it for free from RealNetworks This is extremely nice of them because it's a really handy thing to have!

It's worth installing "Real Player" because once you've got it you'll be able to receive "real time" music and video. This means that you can see and hear things as they happen, you don't have to spend hours downloading huge files. More and more sites are using this system, including Channel 4's "Big Brother" show.

Warning: do NOT click the music links if you don't have "Real Player"


Otherwise one of two things will happen: either your computer will ask if you want to download the music files onto your hard drive, or they might even start downloading automatically. These files are rather large and useless to you, so you probably don't want them.

To get RealPlayer, use this link to the RealNetworks site, then go to DOWNLOADS. Look for "RealPlayer Basic" which is free.

These songs are also available to play on Windows Media Player
Back to the Top of the Page
Using Live Music or Backing Tracks Guide
All shows are published by Samuel French Ltd, 52 Fitzroy St, London W1P 6JR
who can provide perusal scripts and song demo tapes.