BOOKING ENQUIRIES: Special Maths Groups
This page follows on from my author appearances page.
Thank you for showing an interest in what I do!
From SEPTEMBER 2020 if a live event isn't possible, you can arrange a VIDEO EVENT.
Please look through the options below, then when you know what you'd like, please use this address for enquiries:

GIFTED AND TALENTED MATHS GROUPS
If you have a group of keen maths kids, I can do a special session as long as 100 minutes (with or without an interval). As most of my material is not curriculum based, it will be novel to a wide range of ages. Therefore audiences can be a more varied age e.g yrs 5-6-7, or yrs 7-8-9, or yrs 8-9-10-11. I deal with odd card tricks, strange things about the Pascal Triangle, Fibonacci Series and Pythagoras and my "Ten Most Pathetic facts in Maths" which involve chessboards, ridiculous numbers, cutting shapes and so on.
Please note: this session is only suitable for selected and interested kids, it is NOT suitable for whole year groups
MATHS MAKES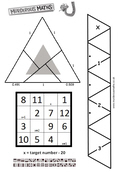 We spend up to an hour cutting out and making a few toys! Kids need scissors and a pencil and a copy of this sheet. Time permitting, we can make flexagons, a puzzle and a magic square. I also have other sheets to make my dice puzzle and predictor cards trick.
Suitable for up to 20 kids, I need at least one competent staff helper. If more staff are available, then the group can be larger.
MATHS QUIZ
The quiz is suitable for yrs 5/6. Teams of 4-6 kids sit at tables and answer multiple choice questions and puzzles presented on powerpoint. (See pictures below). Kids also see some practical demos. Maximum number of teams depends on how big the projection screen is. A medium-sized screen is good for about 12 teams. Kids might need pencils/paper to make a few notes. I need one or two staff helpers to keep scores. Full running time is 100 mins with a break, but I can make it shorter!
MATHS TALK and QUIZ
If booking me for a full day, I could do a big maths session in the morning (yrs 3-4-5-6) and the maths quiz in the afternoon.

SPECIAL EVENTS
I'm very happy to mix a maths show in with an event such as a prize giving, a quiz or an opening ceremony. I can just do a few little maths tricks/items as a short cabaret, or a longer session depending on what you need and how much time you want to fill! A visit like this in the evening might also be combined with a bigger maths talk in the afternoon.
PLANNING A DAY
Before I agree to an engagement, I need a rough idea of how you hope to timetable the day, in particular what time you need me to arrive. Please bear in mind these things:
Unless I'm doing a multi-day trip and staying overnight, I will be travelling from York on the day, so please be aware what's practical.
If you're a long way from York and only want a single session or show, afternoon or early evening is the best time to avoid overnight costs.
If I'm doing more than one session I do not need overlong breaks between sessions.
I'm always delighted to sign my books. If you are organising sales, I can give you supplier contact details.
FEES... depend on where you are and what you want. Please use the link in the next paragraph to contact me, telling me where you are and giving me an idea of what you'd like me to do.
CONTACTING ME
Thank you for taking the trouble to read all this. If you'd like to make a special maths group enquiry please use this address: