INSURANCE
If the dealer's upcard is an ACE, he has a 4/13 (31%) chance of getting a Blackjack. You might be allowed to place an extra insurance bet. This is half your stake, and if the dealer does get Blackjack, it pays 2:1 which will effectively return your whole stake on the hand. However, as the dealer's chance of Blackjack is slightly less than 1/3, over time the casino makes a profit of about 2.5% on insurance bets. Therefore insurance is not generally recommended.
WHAT IS CARD COUNTING?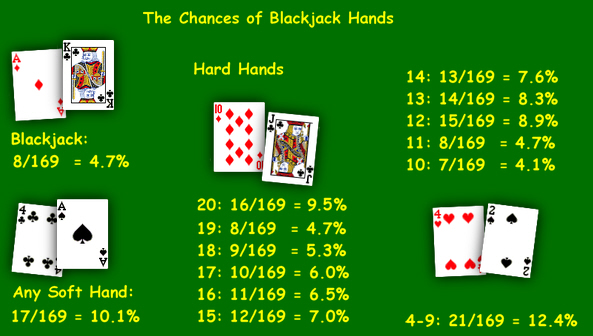 If you're playing with a single deck and you see the dealer's upcard is an ace, you know your own chance of receiving an ace is reduced. That's simple!

However, you will usually be playing a game where up to 8 decks are mixed together. A blank plastic card is inserted near the bottom of the deck. The shuffled cards are then stacked in a "shoe" from which they are drawn one at a time as required and then discarded. When the blank appears, all the the cards are brought back together, shuffled and then dealing starts from the top again.

Keeping track of what has been played from multiple decks requires a great deal more skill, but it can be worth it. If a lot of low cards have come out (A-9) this means that a higher than usual proportion of 10-value cards are left. This offers a slight advantage to the player, so it's time to raise your bets. By contrast, if a lot of 10 cards have come out, it's better to keep bets low or even stop playing.

Experts have developed several methods of card counting to help you beat the dealer - but be discrete. The dealers don't like it!

If you would like to boost your card counting performance you can always find an abundance of resources online that will increase your odds of success. Comprehensive guides like this card counting guide by Casino.org offers useful tips to use to your advantage.

A knowledge of maths is essential for anyone looking to get an edge in gambling. Whether itís understanding probability to gain an advantage in poker, understanding odds and making quick calculations at table games or more advanced things like specific betting strategies such as Kelly Betting. Itís even central to the development of online slots, covered by Casinopedia.org on Roulette and Blackjack.

Never bet more than you can afford to lose.
Good luck!