THE SIMPLEST BET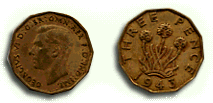 You can bet on almost anything, but to show how the numbers work, we'll start you off with the very simplest bet. (We'll look at some examples of sports betting later.)
We'll toss a coin and call "heads" or "tails".
There are two possible outcomes "heads" or "tails" and an equal chance of either coming up. Therefore if you call "heads" your chance of winning is one in two, or a half. As numbers it might look like 1/2 or 0.5 or 50%.
If you wanted to bet on the outcome, you need to know the ODDS.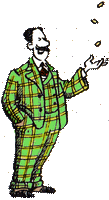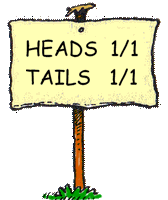 The odds are a fraction or a decimal which shows how much money you would win if you're right. You're going to put your bets on with Charlie, and if he was going to be totally fair he would offer odds of 1/1 on either heads or tails coming up. Odds of 1/1 are also known as EVENS because it's an even or equal chance.
Remember - the odds fraction is not the same as the chance. It represents:
(the amount you win) / (the amount you bet)
Suppose you bet $10 that heads comes up. You start by giving Charlie your $10.
If you WIN then Charlie gives you $10 plus your stake money back. So Charlie passes $20 over. You end up with $10 more than you started with.
If you LOSE then Charlie keeps your $10.
If the odds are 1/1 then over time you should win as much as you lose, so Charlie will never make a profit. That's no good! Charlie needs to pay for that nice suit he's wearing, but you'll see how Charlie makes his profits later.
Are you keen to try your own luck with a little bet? To get the most out of your starting bankroll here is an example of how a 100% deposit match bonus works.
You'll find further fun game suggestions at csgo betting guide.
DIFFERENT ODDS
Now let's look at something more interesting.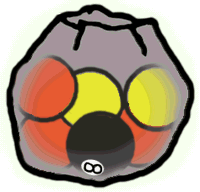 There are six pool balls in a bag, three red, two yellow and the black ball. One ball is going to be drawn out blindfold. What are the odds on each colour?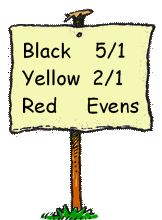 * If you bet on the black, you only have one chance of winning. Charlie will win if any of the other five balls come out. To work out the fair odds you put Charlie's winning chances against your winning chances, so for the black ball the fair odds are 5/1.
* If you bet on a yellow ball, you have two chances of winning, and Charlie has four chances. The chances against you are 4/2, but we can divide both numbers by 2 to give the chances against as 2/1.
* If you bet on a red ball, you have three chances of winning, and Charlie has three chances. The chances against you are 3/3, which are the same as 1/1 or evens.
If you bet $10 on the black ball coming out and you win, then Charlie should pay you 5 x $10 = $50 plus your stake, so you get $60 back.
To work out what you should get back from fraction odds, add 1 to the fraction and multiply by your stake.
So $10 at 5/1 gives (5/1 + 1) x $10 = $60. ODDS AS DECIMALS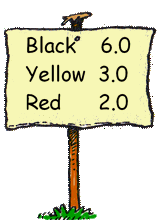 Although it's usually easier to work out the chances using fractions, when placing a bet, you might prefer to use decimals, because it's more obvious what you'll get back if you win.
Here you'll see your odds of 5/1 on the black ball becomes a decimal of 6.0 which means for every $1 you bet, you'll get $6 back if you win (including your stake money). Therefore your $10 bet would pay out $60.
You'll see 2/1 becomes 3.0 and the evens bet becomes 2.0
To convert odds fractions to decimals, you divide the fraction, then add 1. So if you start with odds of 10/3, you work out 10 ÷ 3 to get 3.33 and then add 1 to make 4.33 THE BOOKIE'S PROFIT!
So far Charlie has offered us odds based exactly on the chance of the outcomes, but over time that will never make him any money! Charlie needs to shorten the odds slightly so that he can make enough to keep himself in business.
Here are Charlie's new odds on the six-ball bet.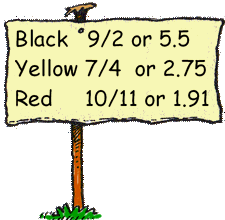 Rather helpfully, Charlie has put both the fractions and the decimals on his sign. The 9/2 bet on the black ball tells you that to win $9 you need to bet $2. If you bet $10, then that's the same as five $2 bets. You win 5 x $9 = $45, plus you get your stake back making a return of $55. (The decimals show this simply as $10 x 5.5 = $55.)
The 7/4 bet on the yellow ball tells you that to win $7 you need to bet $4. It's probably easier to use the decimals here, and see that if you won on the yellow ball, instead of getting back $30, you would get $27.50. If you won on the red ball you'd only get $19.10.
Of course, if you were the only person betting and got lucky, Charlie would still lose money. However if lots of people bet, then he should take more from the losers than he pays out to the winners.
Here's how you can work out Charlie's total profit margin across all his bets on the six pool balls.
Warning - the explanation for these sums is a bit strange! Whatever happens, Charlie will payout 100% on one of the results. The individual % you are about to calculate show how much of each bet Charlie receives. Don't worry if you don't understand it at first - hopefully it will get clearer when you've seen the following examples!
Imagine each bet as a fraction A/B and work out 100B/(A+B). This will give a % for each bet.
First you'll look at Charlie's profits before he shortened the odds.
For the black ball at 5/1 it becomes (100x1)/(1+5) = 100/6 = 16.67%
For the yellow ball at 2/1 it becomes (100x1)/(1+2) = 100/3 = 33.33%
For the red ball at 1/1 it becomes (100x1)/(1+1) = 100/2 = 50.00%
Add up all the answers to get 100%.
100% means that Charlie should receive exactly as much as he pays out, so he doesn't make any profit or loss.
Now let's try his shortened odds.
For the black ball at 9/2 it becomes (100x2)/(9+2)= 200/11 = 18.18%
For the yellow ball at 7/4 it becomes (100x4)/(7+4)= 400/11 = 36.37%
For the red ball at 10/11 it becomes (100x11)/(10+11)= 1100/21 = 52.38%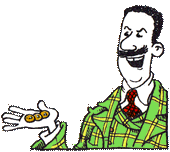 Add up all the answers to get 106.93%. This represents the total money that Charlie takes. He has to pay out 100% of this, so Charlie should expect to make a profit of 6.93%. In other words, for every $100 that Charlie takes, he would hope to keep about $7 for himself.

Charlie can also work out his profit margins using the decimal odds. If the decimal is C then each % = 100 ÷ C. For the black ball at 5.5, the % becomes 100 ÷ 5.5 = 18.18% which is what you got before.

The Bookie's profit has lots of other names such as the margin, overround, slice, dibs or pension!
AGAINST and ON
If you're betting on an event with several competitors, the odds offered are almost always against you. E.g. picking the black ball was 9/2 against you winning. As you were less likely to win than lose, if you did get lucky then your winnings would be bigger than your stake.
If your winnings are to be the same as the stake (i.e. odds of 1/1) this is an evens bet.
If you are more likely to win than lose then your winnings will be less than your stake and people say you are odds on to win. The odds against you winning might be shown as something like 1/10 . This means you need to put on $10 to win $1. (These odds are very short.) Occasionally odds of 1/10 are written as "10/1 on".
PLACE BET and EACH-WAY
If you're betting on a race with several competitors and the odds are long enough, place bets might be available. This means that if your selection comes 1st, 2nd or 3rd (or 4th or even 5th if there are enough runners) you can win a small fraction of the winning odds. A more common bet is each-way where you put on twice the usual stake. One stake is a bet to win, and the other is a bet to place. An each-way bet will give you a small consolation prize if your selection is placed.
DOUBLE BETS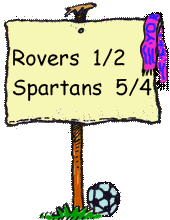 Suppose two teams Rovers and Spartans are playing in separate matches and you expect them both to win their games. How can you make the most of it?
If you put $10 on Rovers at 1/2, you'll get back $15 if they win.
If you put $10 on Spartans at 5/4, you'll get back $22.50 if they win.
Total return = $37.50 then take away the $20 you bet to find your profit is $17.50.
However if you put them on a double bet, the money back from the first game goes straight onto the second game.
You put $10 on Rovers, and get back $15 if they win.
The $15 goes on Spartans and you get back $33.75.
You've only staked $10, so your profit is $23.75!
Of course, if either team loses, you win nothing!
TREBLE BETS
This is similar to a double bet, only you choose three winners.
Let's suppose you bet $10 on Rovers and Spartans, but also fancy your chances with City at 8/13. If Rovers and Spartans win, then the $33.75 you would get back all goes on City. If City wins too, you'll receive your winnings $33.75 x 8/13 = $20.77 plus the $33.75 stake = $54.52. Take away your original $10 stake, and you've made $44.52 profit ... but all three teams have to win or you get nothing!