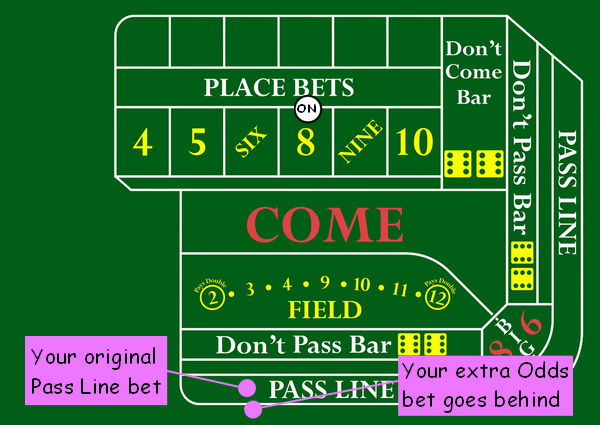 Odds payout varies
If you have bet on the Pass Line and a point (4,5,6,8,9 or 10) is established, you can then add a further bet on the point being rolled before the 7.
The payout on Odds bets depends on the point number (e.g. it's more likely for the shooter to make a point of 8 than a point of 10).
PASS LINE ODDS
Point
Payout
4 or 10
2/1
5 or 9
3/2
6 or 8
6/5
These odds are exactly the same as the chances of winning in each case, so there is no house edge! However casinos do put a limit on how big Odds bets can be, usually a maximum of 5x your original Pass Line bet.
Don't Pass Odds payout varies
DON'T PASS ODDS
Point
Payout
4 or 10
1/2
5 or 9
2/3
6 or 8
5/6
If you have bet on the Don't Pass Line, you can bet that 7 will roll before the point number. The payouts are in reverse of the Pass Line Odds payouts, and again there is no house edge.
For example, you bet on "Don't Pass" and 9 is thrown. You then take a "Don't Pass Odds" bet on the 9 e.g. $10. If 7 comes up before the 9, you win 2/3 x 10 = $6.67 plus you get your stake back, so the total payout = $16.67.
There are also Come Odds and Don't Come Odds which work with the Come/Don't Come bets in the same way.
Field pays 1/1 or more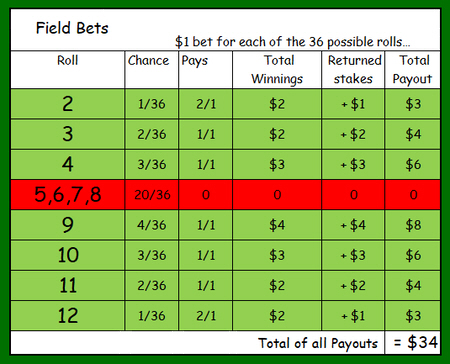 You can have a quick bet just on the next roll of the dice.
If 5, 6, 7 or 8 is rolled, you lose.
If 3, 4, 9, 10 or 11 is rolled it pays 1/1.
If 2 or 12 is rolled it pays 2/1.
To work out the House Edge, suppose the dice are rolled 36 times, each combination on average will come up once. If you bet $1 every time, it will cost you $36. The table shows your total return will be $34. This makes the house edge 2/36 = 5.56%. However some casinos like to make a field bet more attractive, so they might pay 3/1 on a roll of 12, which reduces the edge to 2.78%.
Big 6 / Big 8 pays 1/1
This is possibly the simplest bet on the table. You can bet that a 6, or bet that an 8 will appear before a 7.
The chances of either happening are 5/11 which gives a rather thick house edge of 9.1%. It's a simple bet, for a simple person.