The Mysterious Blue Pipe of York - explored by Kjartan Poskitt.
One of the strangest attractions in York is hardly ever talked about. I only discovered it by accident when I was exploring the cycle paths around the north of the city. As far as I know, it doesn't feature in any guide books and there's very little mention of it on the web, so that's why this page is here.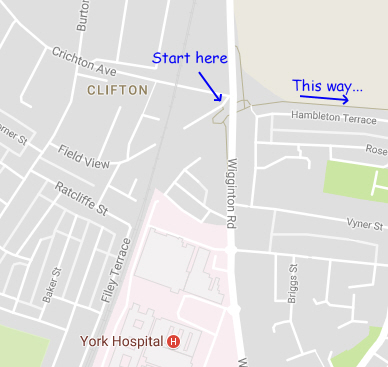 It all starts when you get on the Foss Islands Cycle path about 200 yards north of the hospital by the traffic lights.
Coming out of the city, you want to turn left and go down the track which doubles back under the bridge. If you join the cycle path from the other side of the road you'll miss the first part of the fun, and that would be a shame because it's a beauty.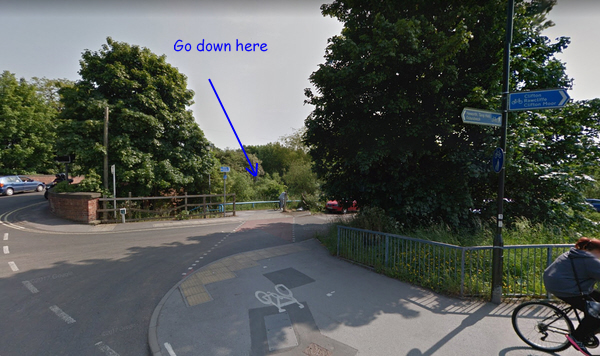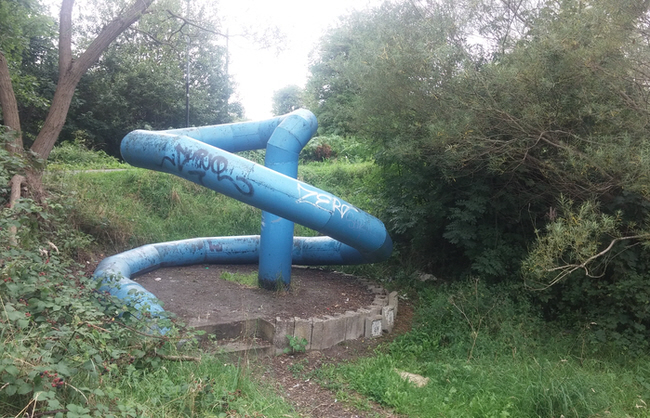 There - it's a crazy blue pipe!
Do you like it? Of course you do, but it sets up some big questions:
Where's it going?
What's in it?
And just generally ... why?
We set off under the bridge, but it's worth having a glance back.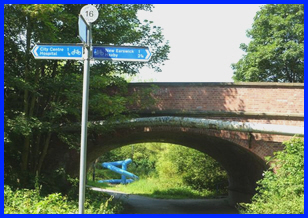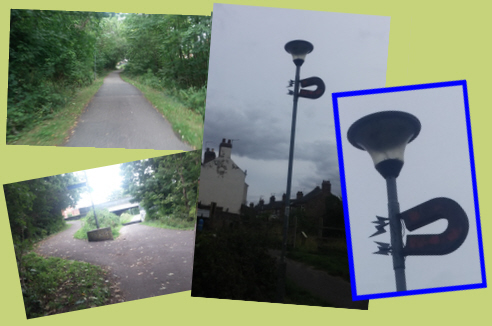 Deep thoughts to ponder as we cycle along a pretty path and then pass an unexpectedly interesting lamppost.
Hello? What's this we see ahead?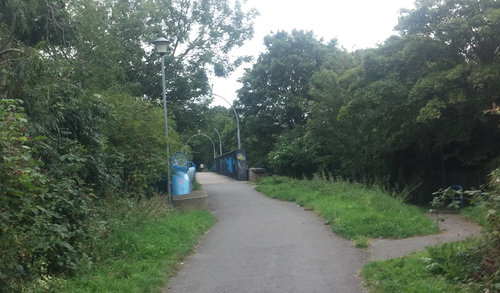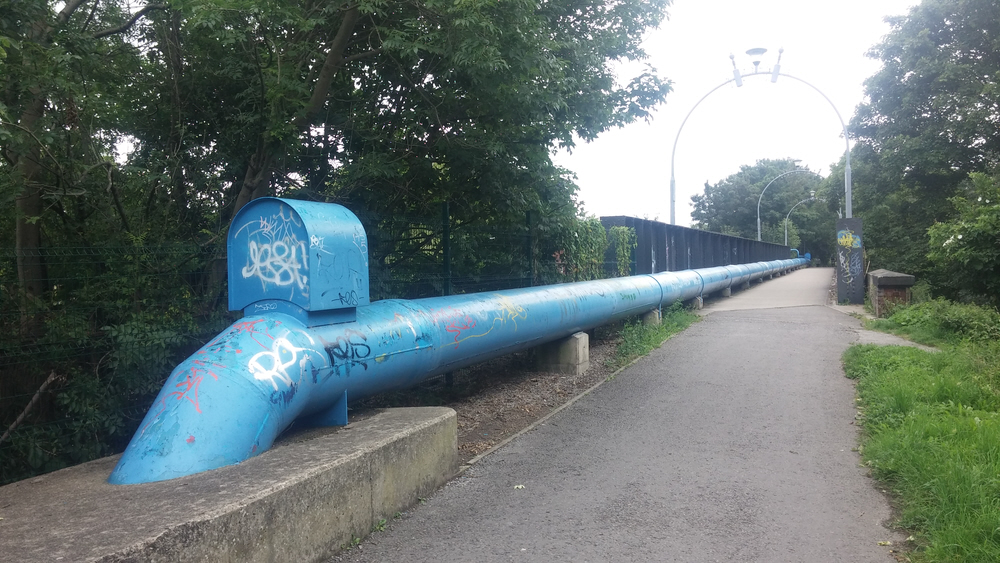 It's that pipe again, going along a bridge!
Well obviously whatever's in it had to get across the Huntingdon Road and the River Foss somehow.
Let's see how it looks from underneath.

There's the bridge - and you can see the blue pipe in the top right of the picture.
The end of the pipe is joined by a blue rail. The pipe itself goes back underground, while the rail continues around a corner ...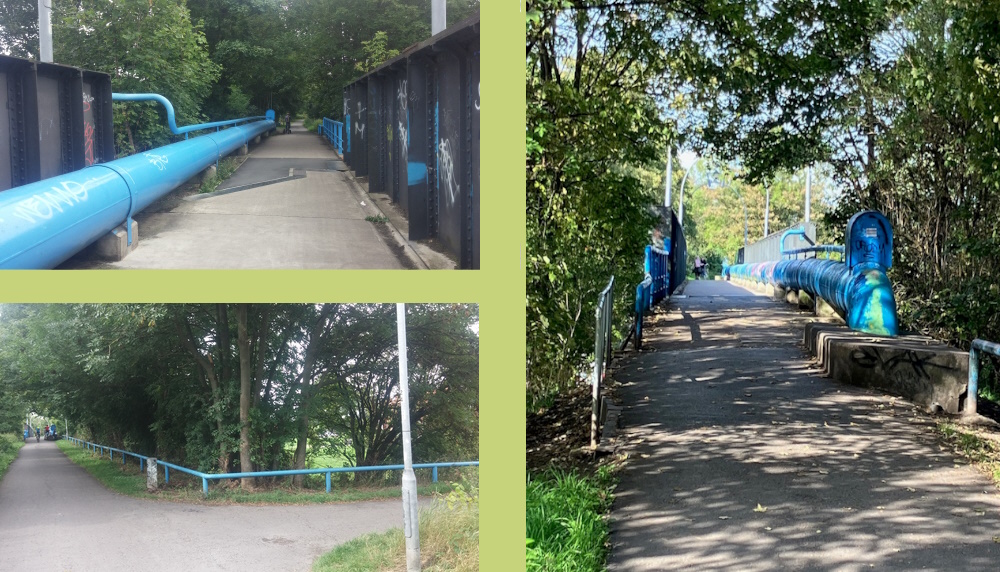 ... and neatly blocks the pathway before joining up with the big blue pipe again. There's an important looking tap too.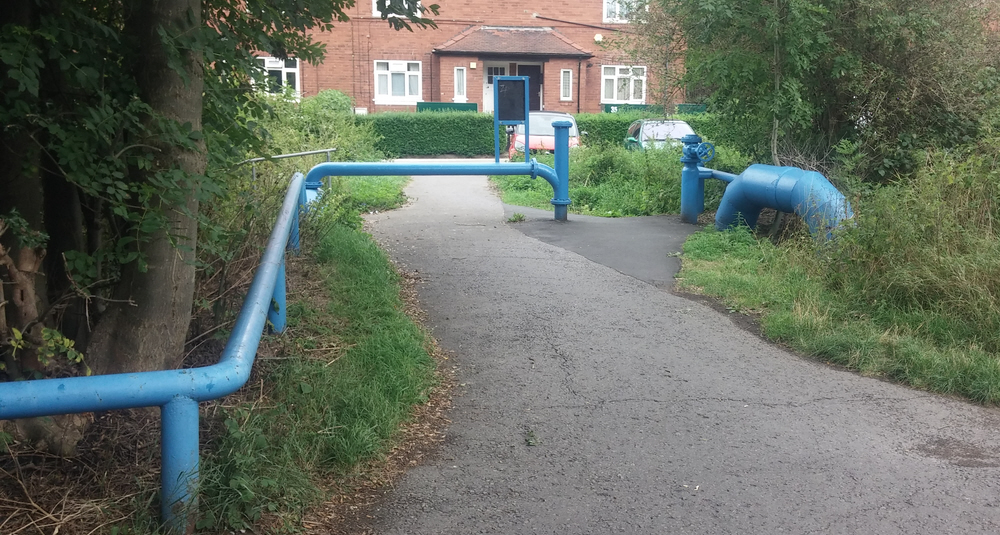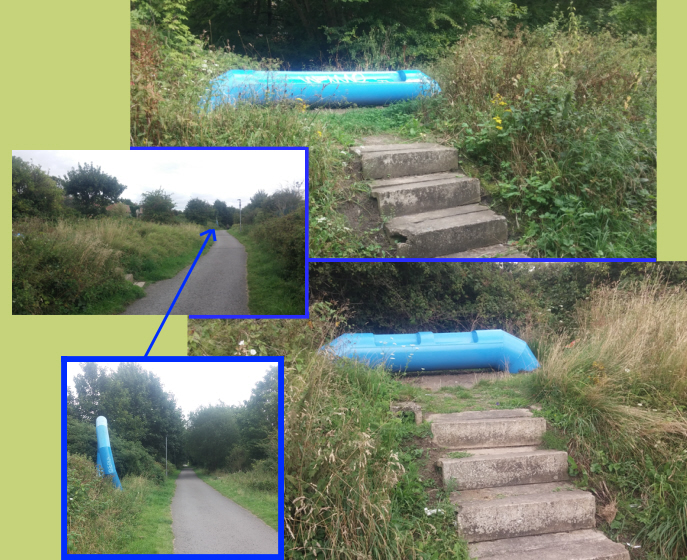 As we go along we pass two sets of steps to the left. Each of them leads up to another section of the pipe.
The first has an indentation making it into a bench and the second has two smaller indentations forming a couple of seats. How thoughtful!
It's tempting to stop for a little sit down on the seats ...
...but what's that we can see in the distance?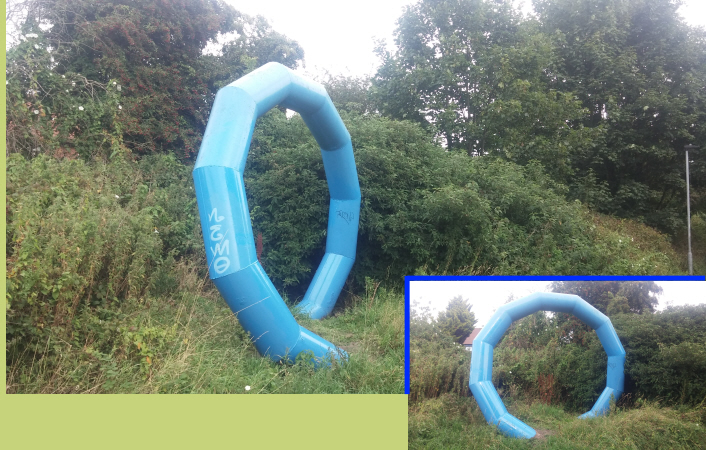 WAHOO!
It's time for a selfie here.
And when I get home I'll realise I've managed to take a picture of my ear in front of a bunch of nettles. Bah.
However, blissfully unaware of my selfie catastrophe, it's time to move on.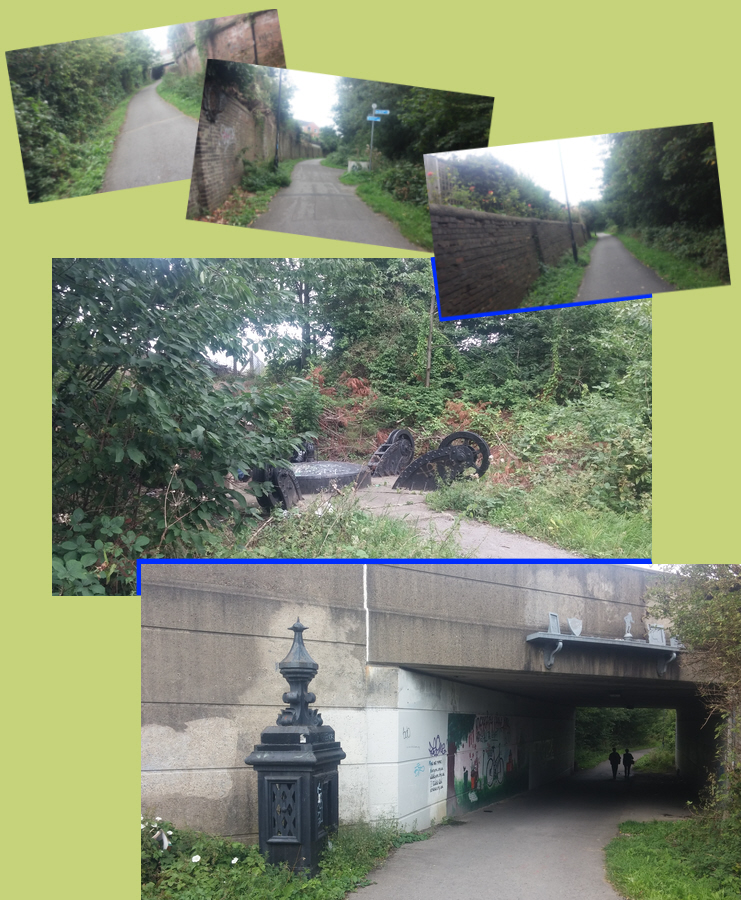 Oh.
Sadly it looks like that loop-the-loop has tired the blue pipe out. It has now gone deep underground never to rise again. All we can do is make our way along the track* to see where we finish up.
(* The cycle track used to be the old Foss Island Branch Line of the York-Scarborough railway many years ago.)
Happily there are a few other odd things worth getting the camera out for.
There's a giant metal manhole with five huge pulley wheels arranged round it.
Someone has also had a go at livening up a rather horrid bridge with four peculiar lantern structures either side of the arches. And a shelf of what looks like sports trophies.
It's all nice, it's quirky and we like it.
But sadly none of it is a pipe.
It's not even blue.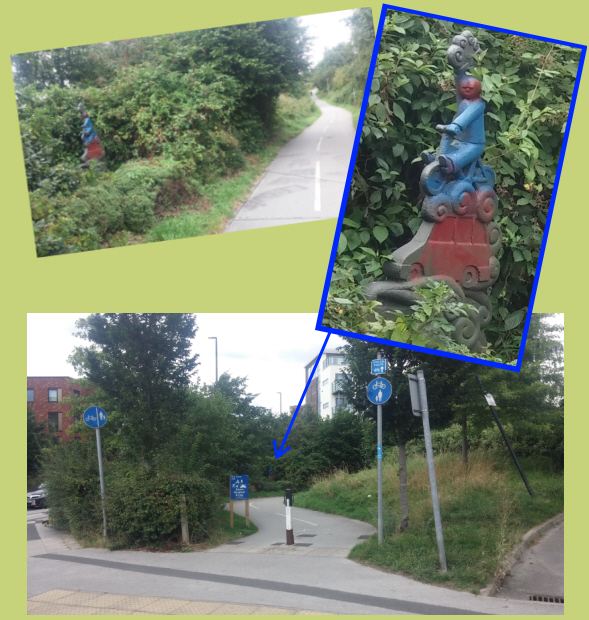 On we go with no blue pipe to keep us company.
Ahead of us we can see the track is about to end, so we take a glance back.
Hey! There's a little man in the bushes. He looks a lot older than the blue pipe. In days gone by, spotting him was probably the highlight of many little kids' cycle rides. Good lad.
At last we've reached a road, but where exactly are we?
Let's check the map.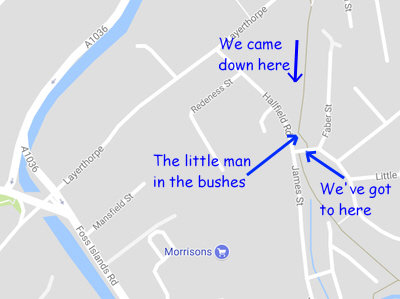 And now the big question is - do we turn round and follow the pipe back to where we started? Or do we risk everything and go on into the unknown?
Scary stuff.
We take a chance, cross the road and look round the corner. It's the start of some more cycle track! So do we take it?
Thinks:
Would Captain Cook have given up if he'd just got as far as the Isle of Wight?
Would Christopher Columbus have turned back at Tenerife?
Would Buzz Aldrin and Neil Armstrong think that the N.A.S.A. McDonalds was far enough?
NO!
We boldly go boldly on. Boldly.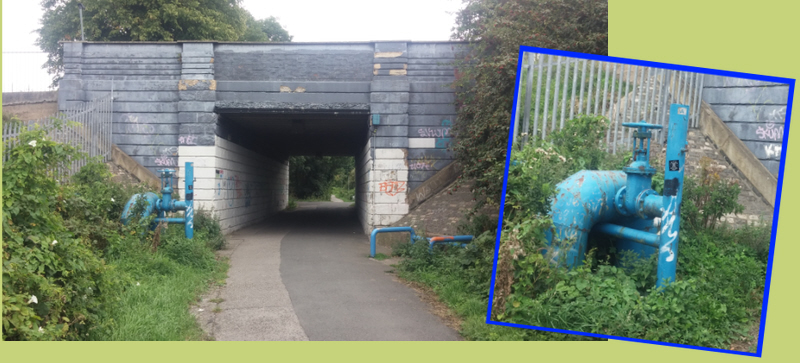 IT'S BACK!
Oh Blue Pipe, how have you been? We've missed you!
Sorry to see the local yobs have been treating you with their usual healthy disrespect, but you don't really care about a bit of paint do you? Of course not, you're far too cool.
So what will you do next?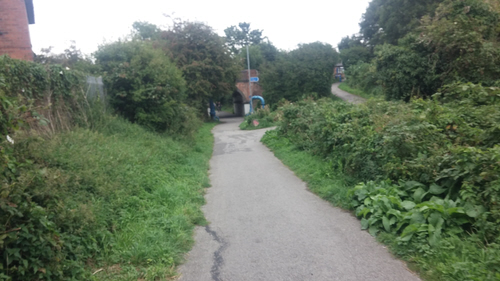 We don't have to wait long to find out.
What's this coming up?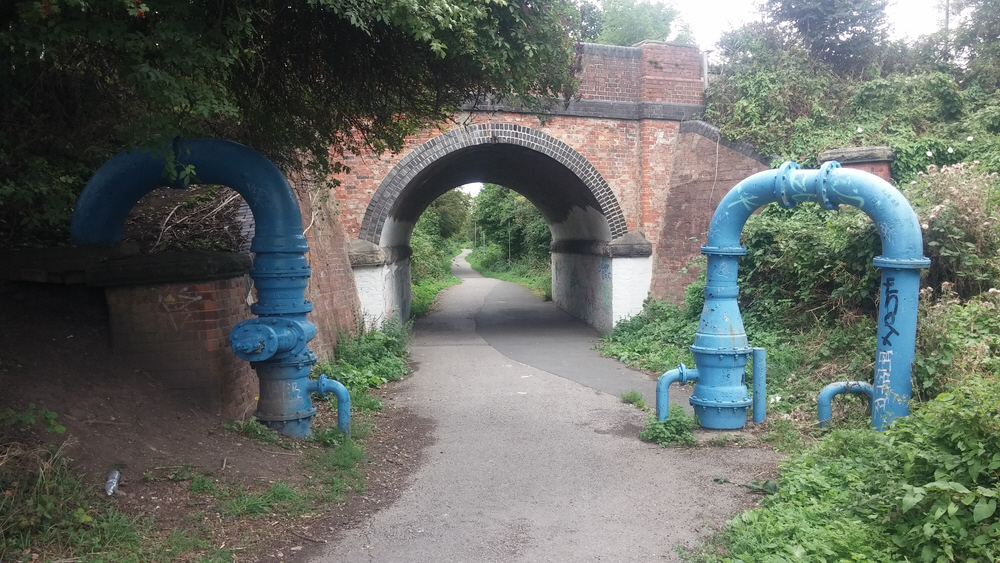 Oooh! In ya face or what?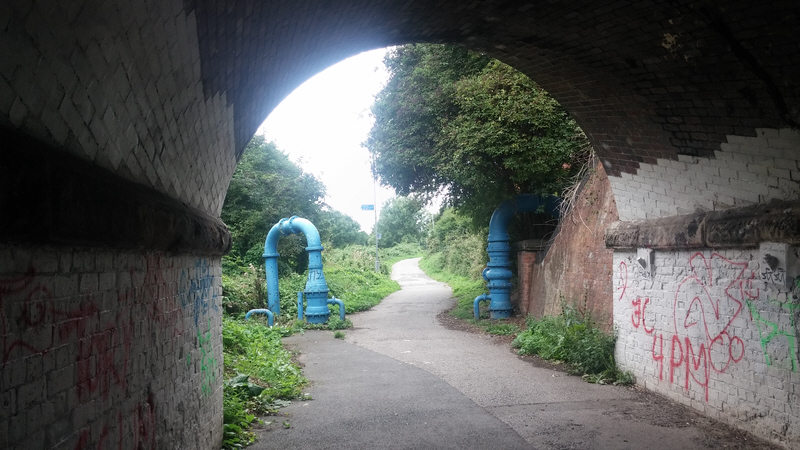 We drag ourselves past and under the bridge, but can't resist turning back to take another look.
The blue pipe just keeps on giving.
Love it love it.
Surely we can't expect more from this aquaducting marvel?
But still we cycle on hopefully past smart new houses and some sort of sporty fields - and then - do we see a glimpse of blue in the distance?

Oh yes indeed!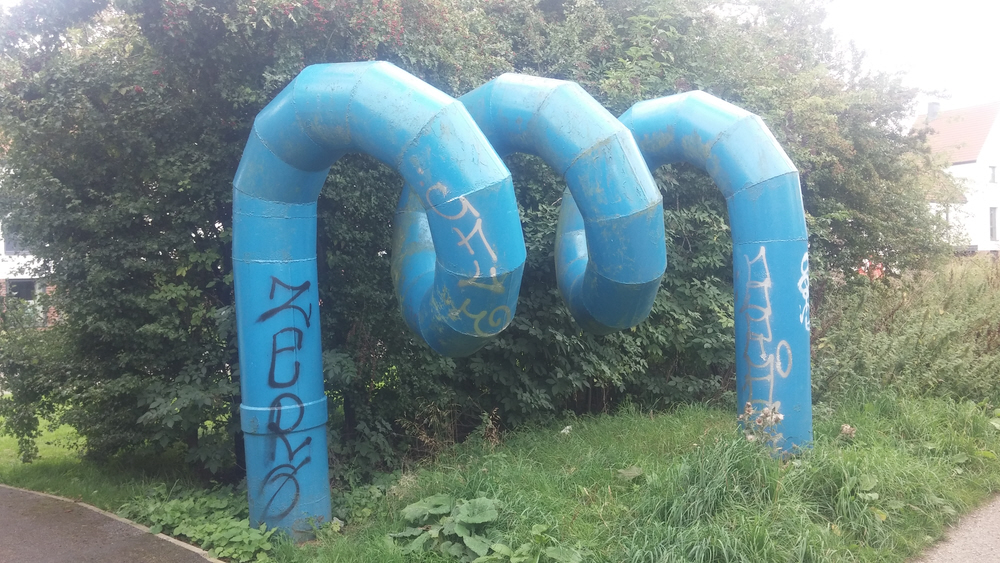 But sadly, just a few yards on, we reach the end of the Foss Islands Cycle Track.
A bit of research tells us more about the Blue Pipe:
It was made by the sculptor George Cutts in the 1980's.
And that's all I knew about the pipe until some years after this webpage went up when I was contacted by Peter Crosland see below.
In the meantime, we've reached the end of the pipe so what do we do?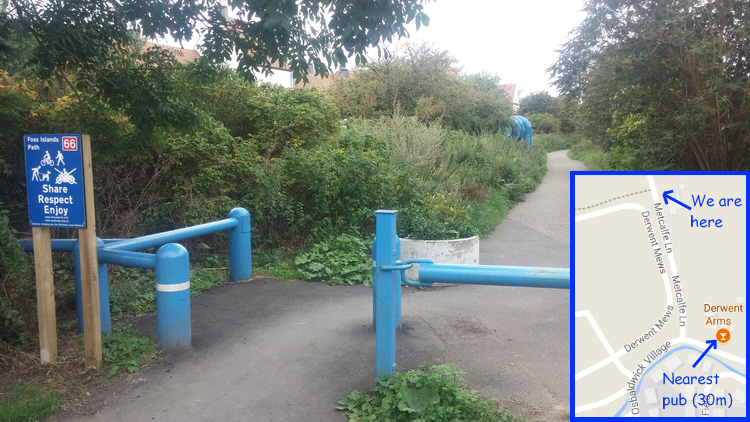 How about this for a completely brilliant plan?
The blue pipe has lured us 2½ miles from where we started.
Let's turn around and go back...
YAY!
Before we go, here's one last thought. The Derwent Arms is just around the corner. Could it be that the blue pipe has been bringing the beer in? Further investigation required.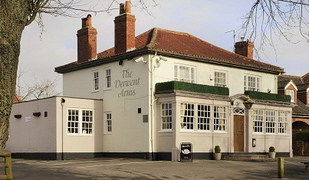 Thanks for joining me on this trip. Maybe you'll try it yourself one day? It's all very smooth and flat and no lycra required, so it's perfect for lazy people kidding themselves they're getting some exercise.
Big thanks and respect to Sustrans for keeping this and many more cycle tracks open for everybody.
Many thanks to Peter Crosland!
Peter is a Chartered Civil Engineer who was working for the Danish firm Carl Bro, and he was responsible for designing the cycle track, in conjunction with Sustrans, the artist George Cutts and the York Water Company. He saw this page and got in touch to tell me there is a real 700mm water pipe which runs under most of the track. The only section of blue pipe that actually carries water is the long straight bit over the Foss, and Peter kindly supplied the photo that looks back over the bridge, which is why it's of much higher quality than my phone snaps!