Henry at Bilton Grange School, Rugby - March 2005
All shows are published by Samuel French Ltd,
52 Fitzroy St, London W1P 6JR
who can provide perusal scripts, demo CDs,
piano/vocal scores, band parts and backing tracks.
HENRY the Tudor Dude abridged version
... your body will ROCK and your head will ROLL...

Specially adapted for primary schools!
Lots of songs for everyone to sing
Lots of short scenes (which are easy to learn!)
Very easy for you to adapt to suit your own needs, either by cutting songs or scenes.
The life of King Henry VIII - England's most outrageous monarch - is accurately related in this rock and roll musical which has been performed by amateurs, schools and semi-pro groups, throughout the U.K. and also in such far off places as New Zealand, Zimbabwe, Saudi Arabia and Kenya.
Battles with France, the reformation of the church, umpteen executions and the tale of six wives are all brought to the stage by the Tudor Newsteam in this riotous extravaganza.
The new ABRIDGED VERSION is especially suitable for large younger groups such as primary schools (ages 8-12). This version includes all the songs but cuts the dialogue to a minimum to create a show that lasts around 50 minutes with around 25 named speaking parts. The show can be further shortened by cutting some of the songs or scenes if required.
Hear the music: The complete set of songs for HENRY THE TUDOR DUDE is available here. For a short medley of the main songs, try this thing:

See the script: Please email me saying who you are and the name of your school or theatre group:
Scenery: All that's required is a desk for the newsreaders and a throne for Henry. Of course you can add in as much extra stuff as you like!
A GOOD TIME FOR EVERYONE...
We all had so much fun with "Henry The Tudor Dude" and from the cards, letters and comments I've received, the audience clearly did as well!
It'll take some following!
Michael Stanley, Allerton School, Northallerton.
The author is reluctantly dragged on stage...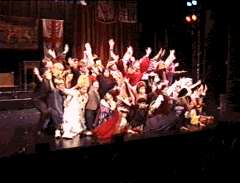 Feltonfleet School at the Epsom Playhouse 1998
Cast

NEWSREADER 1 } for TUDOR NEWS
NEWSREADER 2 }
KING HENRY VIII
EMPSON } Henry VII's tax collectors
DUDLEY }
EXECUTIONER
THOMAS WOLSEY
WAR CORRESPONDENT for TUDOR NEWS
JOAN the court clairvoyant
PRINCESS MARY Catherine of Aragon's daughter
THOMAS CROMWELL
THOMAS CRAMNER
THOMAS MORE
WARDER 1
WARDER 2
MIDWIFE
JUDGE

and of course the six wives:

CATHERINE OF ARAGON
ANNE BOLEYN
JANE SEYMORE
ANNE OF CLEEVES
KATHRYN HOWARD
CATHERINE PARR

Plus lots of wanna-be queens, soldiers, girlfriends, crowds, jolly Germans, courtiers...

Many doubles are possible. (Minimum cast about 15).

Songs

The Coronation Song * - ALL
The Body Rock 1 * - Crowd, Empson and Dudley
I Wanna Be Queen - Court Girls
The Battle Of The Spurs - Henry and Soldiers
Wonderful Waste Of Time - Wolsey and Chorus
Six Finger Annie * - Courtiers and Anne Boleyn
Do Your Worst - Catherine of Aragon, Mary and ladies
The Three Toms * - Cromwell, More, Cramner and Courtiers
The Body Rock Instrumental
The Body Rock 2 * - Executioner, Wolsey, Warders
Rise Up (Reformation Rock) - Cromwell and ALL
Blue! - Henry and Courtiers
Big Bessie - Joan and Chorus
The Body Rock 3 * - Judge, Jury, Anne Boleyn
It's A Boy - ALL
Wunderbar Anne * - Cromwell and the Germans
We Know You Like A Laugh Mr Cromwell * - Judge, Henry, Cromwell and ALL
This Time It's For Real - Kathryn Howard, Henry and ALL
The Coronation Finale * - ALL except Henry who's dead.
The Body Rock Encore - ALL

* for a shorter show you could cut the songs back to this selection.

The music is available on a CD of backing tracks.
There are also full arrangements for

Piano/vocal score
Bass
Guitar
Drums
2nd keyboard

You can hear a wider range of song demos at Kjartan's shows page.
HENRY
THE TUDOR DUDE

NELL'S BELLES

FAWKES
THE QUIET GUY

THE
RUMPELSTILTSKIN
RACKET

SAMMY'S MAGIC GARDEN
Advice on using live music or backing tracks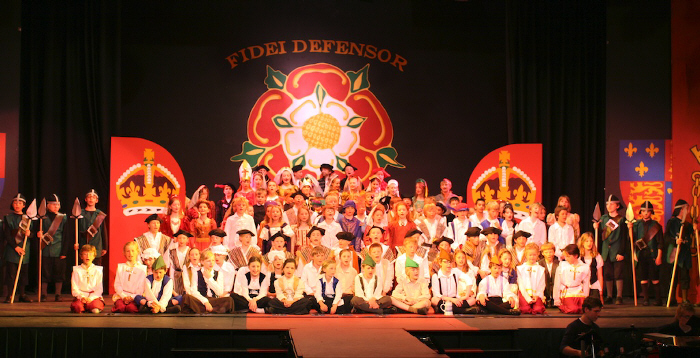 Henry at Ashville College, Harrogate - July 2008

Henry VIII Henry Viii Henry 8th show for children show for primary schools tudors play for primary schools history play horrible history play Henry the Tudor Dude musical songs script backing tracks backing tapes Anne Boleyn Catherine of Aragon KS1 KS2 Henry VIII show suitable for primary schools