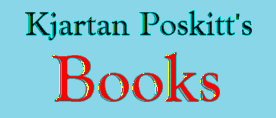 USA VISITORS!
The Murderous Maths books
are now available to you from
FUN books
Links on this page:
THE MURDEROUS MATHS SERIES:&nbsp &nbsp
The Knowledge: The Gobsmacking Galaxy &nbsp &nbsp Dead Famous: Isaac Newton and His Apple
Frequently Asked Questions (How and why I write books)
AGATHA PARROT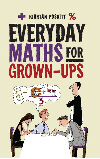 "It's all here. Enough maths to get you through any and every day, and perhaps help adults keep up with their kids -now there's a thought...ENJOY!" Johnny Ball
Click the cover for full details, or you can order your copy here.

URGUM THE AXEMAN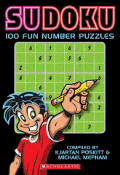 Here's the USA and CANADA version of my Murderous Maths Sudoku book which has sold well over 1/2 a million copies!

Other links: Details of Author Visits&nbsp &nbsp PUZZLE BOOKS (including Killer Puzzles) &nbsp &nbsp

Kjartan Poskitt Main Index Page

The Scholastic Zone (Scholastic publish all the books featured on this page) &nbsp &nbsp



The Murderous Maths Series

"Have a look at Murderous Maths by Kjartan Poskitt. It is a truly addictive reading book, and was leapt on and devoured by my children. The book is full of awful jokes, fascinating facts, real murders and yes, the maths is good too. This is a brilliant book."
- New Scientist 22nd November 1997 -
Originally the first two Murderous Maths books were in Scholastic's "The Knowledge" series but now they headline their own "Murderous Maths" series.
All the books in the Murderous Maths series feature a range of characters including One-Finger Jimmy, Half Smile and their gang, Professor Fiendish, Pongo McWhiffy and the terribly lovely Veronica Gumfloss, the evil Gollarks from the planet Zog, Urgum the Axeman and so on. They also include sneaky tricks, games, jokes (most of which are repeatable) and what's more - you'll find yourself picking up all sorts of advice and tips on how to cope with maths in all it's various forms. Despite their irreverent and frivolous attitude, these books have even found their way into schools and proved to be a boost to GCSE studies. You never know when these maths skills might come in handy - not only for GCSEs and school assessments, but when you're an adult you'll still find basic maths will help. You might find yourself using them next time you visit a financial, or bingo site such as cheeky bingo ( click here to go to CheekyBingo.com ) , or even as part of your job, or just during everyday life. Sometimes I like to work out the progressive slots multipliers on games such as rainbow riches. A great point of personal pride are the foreign editions which already include German, Spanish, Polish, Greek, Dutch, Norwegian, Turkish, Croatian, Italian, Lithuanian, Korean, Danish, Portugese, Hungarian, Hebrew, Thai and others...


Other books: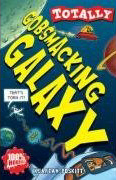 The Knowledge: THE GOBSMACKING GALAXY is the beginners guide to space. It explains what all the different lumps and bumbs that float around the sky are, it tells you how to get there and what you'll find when you arrive. Meet the creature that sneezed itself right off the planet, find the galaxy's ultimate ski resort, build your own solar system and see what happens to a bloke called Sid as he takes his grandfather clock into a black hole. This has all the fun of the cosmos served up with lots of really satisfying facts.


Order a copy of "The Gobsmacking Galaxy" (New 2009 updated edition)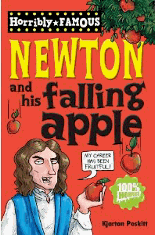 Dead Famous: NEWTON AND HIS FALLING APPLE tells the extraordinary story of the moody genius who explained gravity. When I was researching this book I was amazed to find there was a lot more to Isaac Newton than just being hit on the head with an apple! Did you know he used to shove pointed sticks into his eyeballs to see what happened? At school he scrunched the bully's face into a church wall, later on he fell out with almost everybody he met, some of his experiments bordered on witchcraft and he personally signed many criminal's death warrants...and there's lots more all in this book. Amoungst all the other gruesome facts, there's newpaper reports on the plague, the great fire of London and the executions of the time, plus a simple step by step guide to Newton's greatest discoveries inclucing Calculus, Gravity and Colours. This book (illustrated with loads of superb pictures and cartoon strips by the excellent Philip Reeve ) provides a gory, fascinating and fact-packed read for anyone aged 9 to 99.


Order a copy of "Newton and his Falling Apple" (New 2011 updated version)



THE PUZZLE BOOKS have their own page. If you like maths, logic and intelligence problems, then do have a look!
How I became an author and other stuff I do
A lot of people have been kind enough to contact me and show an interest in what I do, and here is a summary of the answers to some of the questions I get asked.
Where do I live/work? I was born and now live in Yorkshire, but over the years I've been all over the place which has given me a very odd accent. Luckily you can't hear it if you're reading my books. I have a room in the top of my house where I sit typing away surrounded by old computers (which I can't work very well) computer games, flashing lights, inflatable fish, keyboards, squirty flowers, a fruit machine, magic tricks and my collection of 1,500 BEANOs.
When/why did I start writing? Do I like it? I always wanted to be a performer, and at Durham university when I was about 18 I started writing lots of plays and songs. I then wrote little jokes and other stuff for the telly, and then in about 1990 I was asked to write some puzzle books, and now I mainly write the Murderous Maths books. It's not a bad way to make a living because you can stay at home, you can wear your old smelly clothes all day, and when a new book comes out you can give a copy to your granny and she's pleased to bits.
Why maths and puzzle books? Because that's what I like and what I know about. With a subject like history things are often a bit vague such as "Why did Henry VIII have a big party with his enemies the French at The Field of the Cloth of Gold?" That stuff gets very frustrating but with maths things are certain, e.g. 1 + 2 = 3. I like that. I was also lucky to have some very good maths teachers at school who made it easy to understand and fun to do.
Where do I get ideas from? That's a tough one! It depends on what I'm writing. With the maths books, because I know what I have to write about (i.e. maths), it's not too hard, I just have to think up a funny way of doing it. Puzzles are harder, but the fun bit is that to get ideas I need to get out - so I walk the dog or go to the pub or have a long bath or play computer games until I think of something. Quite often the best ideas suddenly occur to me in the middle of nowhere and get written on the back of my hand.
How long does it take to write a book? It varies an awful lot! Usually I reckon a first draft takes about 3 months, although some of those days I'll be out doing shows or author visits, or I might even be working on another book at the same time. But some books are a lot longer (the first draft of Murderous Maths of Everything took nearly 2 years!) and some books are quite quick (Easy Questions Evil Answers took about 4 weeks, but that's because a lot of it was the stuff I couldn't use in the MM of Everything!) One problem is that the older I get, the fussier I get, so I cross most of it out before anybody else gets to read it.
Have I ever wanted to give up? No I haven't, but I'm very lucky. As well as writing books, I spend a lot of days going out to do shows. When I'm getting bored of staring at the computer, I've always got some gigs to look forward to. And when I'm getting bored of hours and hours of travelling up and down the country, I can look forward to staying at home and thinking up some funny stuff. I also get to do a lot of radio and telly interviews and I invent games and puzzles. Everything I do is fun, and if I get bored of one thing I go and do another!
What books have I written? Quite a lot by now! All the books listed further up this page, also the puzzle books and the plays, then there's about 8 BBC TV "Megamaths" books, 4 "Rosie and Jim" annuals, 3 cartoon books, books on secret codes and practical jokes, 2 BBC "Dynamo books". Incidentally, my personal favourite book is probably "Horribly Famous: Isaac Newton and his Apple". There are also my stage shows which you can see here: SHOWS with music demos you can hear.
What do I read? I enjoy checking through maths and puzzle books (if they're good), but mainly I like to read anything funny and the funniest book in the world is "Molesworth" by Geoffrey Willans and Ronald Seale. It features a snotty schoolboy "Nigel Molesworth" telling all about the nutty kids and mad teachers at "St Custards". There are so many ace characters and hilarious situations that I found it funny when I was 8 and I still find new jokes almost 40 years later.
What music do I like? I'm a real sucker for anything from the 1920's or 1930's. If a song has the words "vo-dee-oh-doh" then it can't go wrong for me. My favourite band are called The Casablanca Steps who are just brilliant at playing this stuff. However, oddly enough, when I'm planning out mazes or drawing technical stuff I switch to Pink Floyd, Led Zepplin or to my all time rock heros The Sensational Alex Harvey Band.
Why do I write for children? I don't. I write what interests and amuses me and luckily it appeals to lots of other people too, not just children but also adults. The nice thing about having your books published by a children's book firm is that they put more effort in to getting good illustrators and making everything jolly. If my books were supposedly just for "adults", then they wouldn't have the cartoon strips and other mad things.
Thanks for being interested and do feel free to e-mail me using the "Contact Kjartan" link at the bottom of the screen, or the link on the start page.
Details of Author Visits and Maths Sessions
ACKNOWLEDGEMENTS
I get a lot of fun from my books and I'd like to take this chance to give a big showbizzy luvvy thank you to my agent Marilyn Malin who got me into all this, and all the people who have helped me at my various publishers, especially Lisa Edwards at Scholastic, Amanda Smith at Samuel French Ltd, Kerry Chapple at Michael O'Mara Ltd and Philippa Donovan at Egmont. They all manage to give the proceedings an air of quality. Oh, and then they take me to the pub.